CDUnderwriter
Workflow and Task Management System
CDUnderwriter provides a platform for institutions and underwriters to communicate and collaborate on CD issuance.
Deposit brokers working with institutions to convert deposits to brokered CDs need access to efficient productivity tools to provide the best service to their clients. CDUnderwriter document workflow and task management system from Financial Technology Laboratories (FTLabs), enables underwriters to efficiently collaborate with their internal or external clients to underwrite and issue certificates of deposit through this integrated workflow platform.
This easy-to-use system brings underwriters and their institutional clients a comprehensive and convenient method of converting their deposits into marketable higher-yielding brokered certificates of deposit.
Download Sales Brochure
Workflow and Task Management System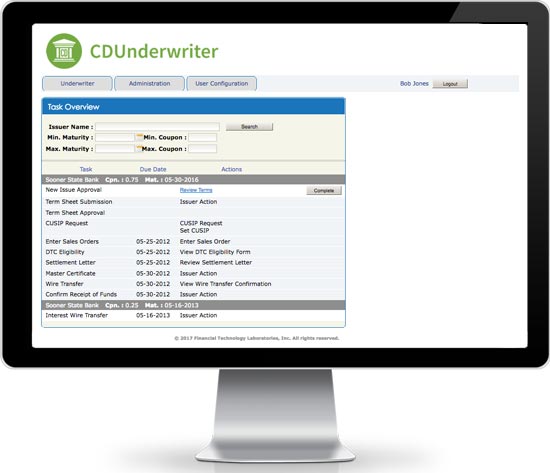 CDUnderwriter empowers deposit brokers with a workflow and task management tool that provides the speed and automated underwriting, issuance, and sales processes needed for brokers to efficiently manage multiple deals simultaneously.
Administrative options allow for the configuration of users, firm profile information, issuing institution information, market holidays, underwriting fee schedules, and maintenance of the FDIC database of issuing institutions.
Workflows in CDUnderwriter may be modified to include new procedures, documents, and tasks included in the issuance process.  New legal or workflow document can be easily created by selecting a template, filling out a form, and allowing CDUnderwriter to automatically insert all known information.
Both issuers and underwriters may generate a variety of customized documents that can be easily viewed, printed, executed, and transmitted to the involved parties. CDUnderwriter standard document templates include: Issuer Agreement, DTC Letter of Representation, Certificate of Deposit Terms Agreement, CUSIP Request, DTC Eligibility Questionnaire, Offering Sheet, Master Certificate, Settlement Letter, and Wire Transfer Confirmation Letter. Templates for new documents are easily uploaded.